Important Links
The following is a list useful links that I have compiled. If you wish to be added to this list, please e mail the chairperson- See HOME page for e mail address link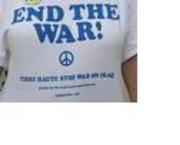 BLOOMINGTON PEACE ACTION COALITION

Contact: Timothy Baer
Organizer, Bloomington Peace Action Coalition
Phone: (812) 988-1917
E-mail: BPACpeace@hotmail.com


Bloomington Peace Action Coalition

UNITED FOR PEACE AND JUSTICE

A leading coalition of peace and justice organizations.


unitedforpeace.org

Women's International League for Peace and Freedom

1213 Race St.

Philadelphia, PA 19107

Tel: (215)563-7110


WILPF

Indianapolis Peace & Justice Center • 609 E. 29th Street: Room 314 • (317) 920-1510
www.indypeaceandjustice.org


Indianapolis Peace and Justice Center

AIR AMERICA RADIO

AMERICA'S PROGRESSIVE TALK RADIO


Air America Radio



GOODSEARCH

GoodSearch is a search engine which donates 50 percent of its revenue to the charities and schools designated by its users. It's a simple and compelling concept. You use GoodSerach exactly as you would any other search engine and it is powered by Yahoo! so you get proven search results. The money GoodSearch donates to your cause comes from its advertisers — the users and the organizations do not spend a dime!

We suggest UNITED FOR PEACE AND JUSTICE as the organization to choose.


GoodSearch
Lycos You know us as the Internet's original search engine.
Yahoo! One of the most visited hubs on the Internet, reaching one out of every two Web users.
InfoSeek With over half a million sites, divided into more than 25,000 categories, Yahoo! is both browseable and searchable.
GO Network is a new brand that brings together the very best of the Internet in one, easy-to-use place.
Have Fun!